IBTS NDSL achieves 'Green' certification in the My Green Lab (MGL) sustainability programme
The IBTS NDSL (National Donor Screening laboratory) is proud to announce that it is the first Medical Science laboratory in Ireland to achieve the highest 'Green' status in the MGL programme. Recognised by the United Nations Race to Zero campaign as a key measure of progress towards a zero-carbon future, My Green Lab Certification is considered the gold standard for laboratory sustainability best practices around the world.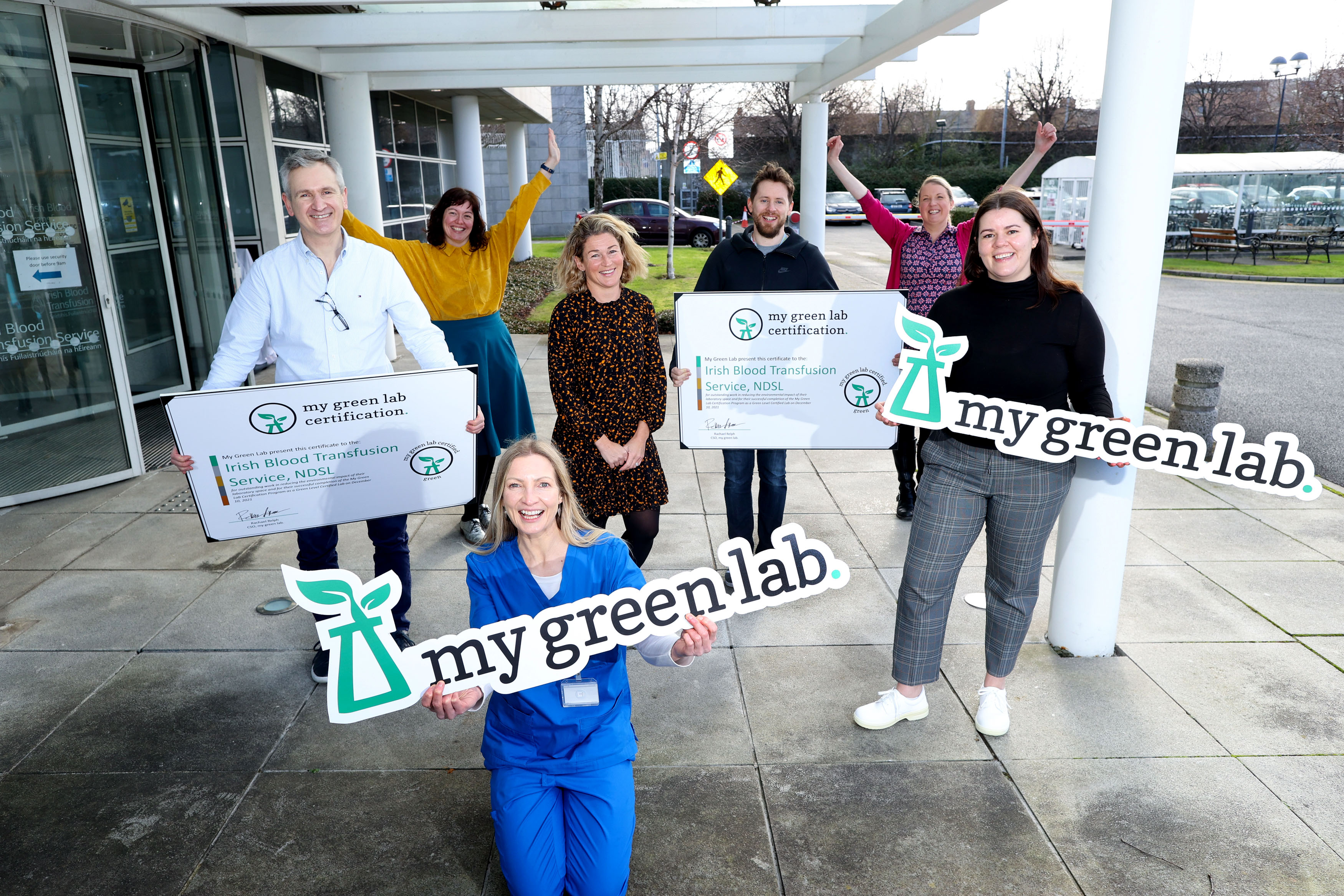 Pictured Front row; Fiona Young (Senior Medical Scientist), Padraig Williams (Head of Testing), Lolita Quinn (Medical Scientist), Greta Domarkaite (Senior Medical Scientist). Back row; Moira Keogh (Chief Medical Scientist), Dermot Coyne (Chief Medical Scientist) & Lisa Burke (Chief Medical Scientist).
"This pilot project is part of the IBTS Connections that Count 2021-2025 strategy and embodies working towards achieving operational excellence for the NDSL laboratory. Green laboratories are efficient laboratories - implementing best practices decreases operational cost by reducing waste and preventing unnecessary energy and water use," said IBTS Head of Testing, Padraig Williams.
"The programme works with individual laboratories and researchers to educate, collect best practices and assess areas of improvement in research efficiency. Those areas include engagement and targeted initiatives around efficiency in natural resources and other environmental issues.
"The NDSL laboratory was assessed on its operations; including energy and water use, waste management, sustainable purchasing and travel. The Green Lab Assessment Programme was developed by the nonprofit organisation My Green Labs (MGL) and University of California representatives from Davis, Santa Barbara, San Francisco and Los Angeles to help reduce environmental impacts of laboratory buildings.  
"Laboratories are the largest consumers of energy, water and chemicals in the National Blood Centre. The laboratories face challenges in energy/water efficiency, waste management and identifying sustainable purchasing options, and require special attention to meet EU Directives and safety requirements," he added.
This successful pilot project in the NDSL will be rolled out to all IBTS laboratories both in the National Blood Centre, Dublin and the IBTS Centre in Cork.